STONE SCULPTURE
---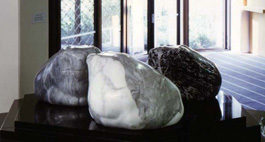 These three large frogs are made from three types of Italian marble, Bardillo, Statuario and Portodoro, each weighing about 500 kilogrammes. As each frog can turn around its own vertical axis on the black granite base, a great many combined positions are possible, which expressively suggest many different (humanlike) situations. The monument was commissioned by the C&E Bank, in whose lobby in Utrecht it is to be found.

---

This sunbathing lady was carved from Belgian bluestone.

---

The relief of Cheiron teaching Asklepios was carved from a discarded tomb stone, and was commissioned by the deceased's family.
---